Worry-free email – Exchange Online with Office 365:

No servers. Cut IT costs. Get automatic updates.
Your data stays private and is never used for ads
Meets HIPAA and 9 other compliance standards
Protection against spam and viruses
A clean, ad-free inbox
Spend your time communicating—not managing email accounts, worrying about how to protect your email, or slogging through an inbox cluttered with ads. With a simplified admin center and built-in security, Office 365 takes the work out of managing your email.
Built-in tools for managing
You can access the admin center from anywhere to set up new user emails, restore recently deleted accounts, create custom scripts, and more.
Built-in defense for security
You'll have industry-leading anti-malware protection and anti-spam filtering to guard your email from those ever-present mail threats.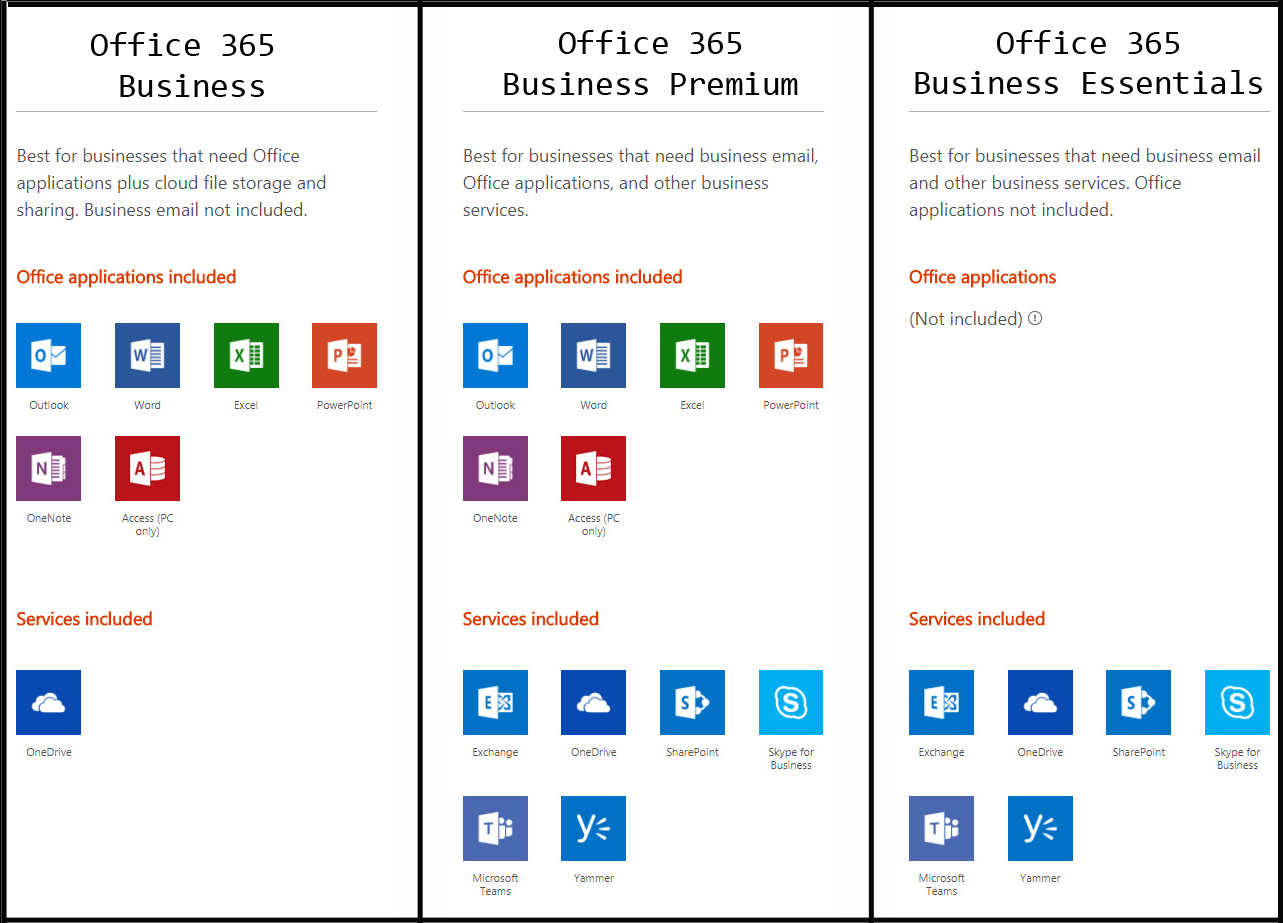 Office 365 FULL Plan Comparison Chart
Get the most secure Office for your business
Access files anywhere—online or offline
Whether you're working in your office or on the go, you get a familiar, top-of-the-line set of productivity tools. Office Applications —always the latest versions—let you create, edit, and share from your PC/Mac or your iOS, Android or Windows device with anyone in real time.
Security
At the service level, Office 365 uses the defense-in-depth approach to provide physical, logical, and data layers of security features and operational best practices. In addition, Office 365 gives you enterprise-grade user controls to further secure your environment.
Physical security
24-hour monitoring of data centers.
Multi-factor authentication, including bio metric scanning for data center access.
Faulty drives and hardware are demagnetized and destroyed.
Logical security
Servers run only processes that are whitelisted, minimizing risk from malicious code.
Dedicated threat management teams proactively anticipate, prevent, and mitigate malicious access.
Port scanning, perimeter vulnerability scanning, and intrusion detection prevent or detect any malicious access.
Data security
Encryption at rest protects your data on our servers.
Encryption in transit with SSL/TLS protects your data when it's transmitted between you and Microsoft.
Threat management, security monitoring, and file/data integrity prevent or detect any tampering of data.
Exchange Online Protection provides advanced security and reliability against spam and malware to help protect your information and access to email.
Business Continuity
Never worry about power outages, server crashes, networking hardware malfunctions, and computer crashes ever again. Office 365 guarantee's 99.9% up-time of their email servers; a figure backed by their quarterly analytics.
Installed and Maintained by Local Company in Providence RI
Don't buy software that will go out of date. Save upfront by subscribing to software that will always be up-to-date and compatible with iOS, Android, Windows smartphones, and Mac/PC operating systems.
Keep your employee's productive and happy by providing them software that works from anywhere on any device.